Best Sellers
Introduction
This page is the result of a very long study which has been running for several years. I started it in 2002, uploading the first version of Fan Of Music in 2004. Collecting all the data wasn't an easy work, but the hardest part has been to understand it precisely to use it as efficiently as possible. This work wouldn't have been possible without the contribution of many chart experts from countries all around the world, I thanks them all with regards, see sources to learn more about them. Such a work never ends, lists are very close to be complete, but artists/albums still missing. I aim to study them carefully as soon as possible. To keep those lists highly accurate, I consequently added a page with the list of known omissions, acts/albums which will be added when I will get some time to study them. A second page will warn you of each evolution, as soon as a new figure enter in one of those lists, it will be printed on that page. Please note that omissions won't make lists very high, so the top of all them is complete. More details about omissions on the previously mentionned page. If you note an act/album that may make one of the list in this page which still absent from the page of omissions, let me know by email.
At the bottom of this page several links are avalaible. They concern my sources and methodology, omissions and inclusions/updates. Do not hesitate in checking them.
Special note: Before reading those lists, be aware about the fact that most sales claims, even the ones relayed by the biggest medias, are hugely exaggerated. I know, and other chart experts who worked with me know, about claims regarding supposed sales of Elvis Presley, the Beatles, ABBA, Julio Iglesias, Frank Sinatra, Kiss, Nana Mouskouri or the album Thriller, among others. All serious researches prove without a single doubt that their supposed sales still very far from behind reached. Figures on Fan Of Music are all based on real informations from music industry organizations, utopic claims have been ignored. I hope you will enjoy this work and that it will help everyone in sorting out which figures said on medias are true, and which aren't.
Top 120 Albums Acts Worldwide
Top 300 Albums Worldwide
Top 325 Albums Europe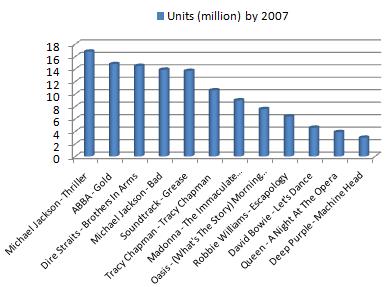 Copyright © 2004-2010 Fan Of Music tous droits réservés.